Morgunbladid 27 february 2002
<![if !vml]>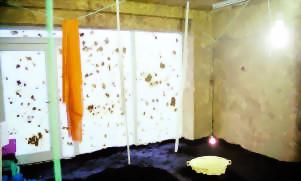 <![endif]>
Morgunblaðið/Halldór B. Runólfsson
Libia Pérez de Siles de Castro and
Ólafur Árni Ólafssonar
The exhibition space of Gallerí Hlemmur has been thoroughly overturned with the environmental works of Libia Péres and Ólafur Árni. Libia, born in Malaga, Spain and Ólafur, born in Hafnarfjörður, Iceland, presently live in Rotterdam. Libia and Ólafur have exhibited their collective works a few times before in Iceland. Their latest exhibition was held at Straumur, a cultural center in Hafnarfjörður.
Compared to their latest exhibition, which was both adventurous and coordinated- even though you could find unusual combinations of works in every corner the present exhibition at Gallerí Hlemmur lays new ground for the artists. Given the atmosphere Ólafur and Libia create, the inner space of the gallery is covered with soil and paths, -this exhibition has to be considered as a certain peak on their relatively short career.
The whole is a reminiscent of environmental art in the early days of happening, when Allan Kaprow, Jim Dine, Robert Whitman, Red Grooms and Claes Oldenburg were making their happenings applying cheap material, complicated and intricate scenes and many different recesses. However no actual happening takes place in the space. Viewers are given an opportunity to wander around and have a dialogue.
It is remarkable how Libia and Ólafur manage to utilize the small space of Gallerí Hlemmur. The floor of the inner space is covered with clayey soil and viewers have to cover their shoes with supplied slip on plastic bags before entering. Inside there are various unexpected objects on the walls and floor, these objects seem to be used by the artists to make the space more organic. However the small depressions in the soil and the sills on the walls, scattered with colorful powder, are probably most noticeable.
These details demonstrate better than ever the artists keen sense of details at the center of things.
The windows are transformed in to pure transluminated paintings. The viewers are given the chance to contemplate the landscape undisturbed.
As a counterpoise the front room is more regular, covered with mirrors and convex lenses on the wall and up in the ceiling.
In this way viewers are invited to walk in to a space that lies on the verge of culture and nature and experience themselves as a part of an intricate environment where wonders and adventures surround us.